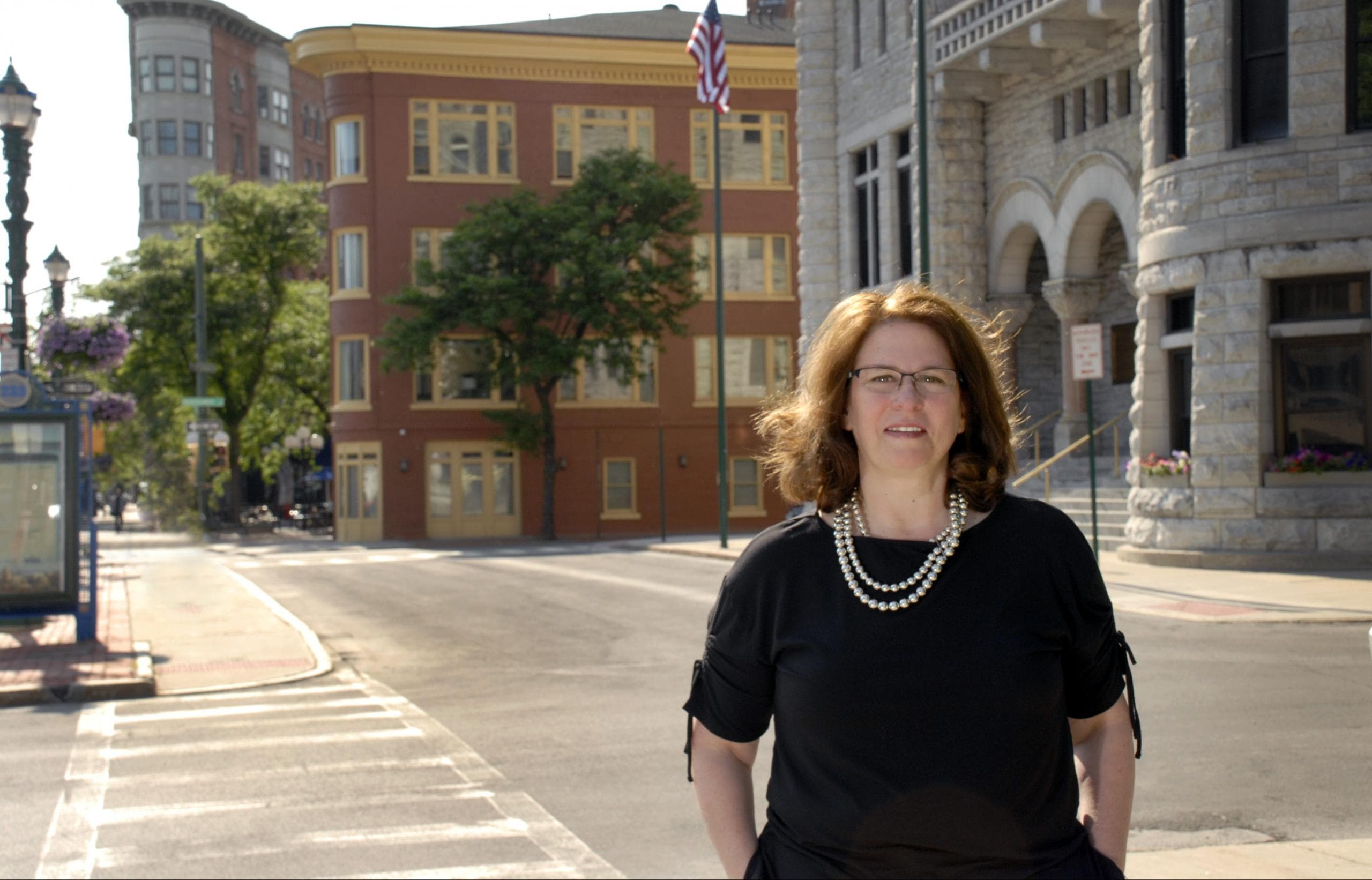 Sue currently serves as the Corporation Counsel to the City of Syracuse (the "City") providing counsel on all matters of municipal law including negotiating contracts, assisting with property disposal, managing claims and litigation, governance and compliance issues and working with executive directors and boards on day-to-day issues.
In addition, Sue has extensive experience with and represents public and quasi- public entities and municipalities including industrial development agencies (IDAs), local development corporations (LDCs), port authorities and towns in public finance transactions throughout New York State.. Sue counsels these clients in connection with the issuance of tax-exempt and taxable obligations, procurement as well as economic development transactions. Sue also provides advice on a wide variety of governance and compliance issues including the General Municipal Law, the Public Authorities Law and the latest pronouncements and audit findings of the NYS Authorities Budget Office.
Sue's work as bond counsel provides her the opportunity to facilitate the issuance of tax-exempt and taxable revenue bonds that provide financing for construction and equipping of educational facilities, healthcare facilities, affordable housing complexes, manufacturing facilities, as well as commercial facilities. These financings range from $50,000-$326 million.  Sue also has experience with tax exempt general obligations issuances.
Sue represents 501(c)(3) organizations in taxable and tax-exempt financings and also advises them on continuing disclosure compliance.
Sue served as General Counsel to the Trustee in a Chapter 11 bankruptcy proceeding venued in the Northern District of New York, involving the largest Ponzi scheme in U.S. history at the time.
Representative Experience
Represents the City of Syracuse in all day to day legal matters and operations.
Served as bond counsel in the issuance of certain School Facility Revenue Bonds in the aggregate principal amount of almost $300,000,000 between 2008 and 2020 to finance a portion of the costs of a School Facilities Project as part of a program pursuant to the IDA Act and the Syracuse Schools Act.
Represented IDA in the provision of financial assistance in the form of exemptions from real property taxes, sales and use tax and mortgage recording tax to a manufacturing facility for the construction of new clean rooms and sterile production and filing areas.
Represented a port authority in the review of contracts relative to expansion of the port facility.
Counsel to developer in establishing a Qualified Opportunity Fund and offering equity interests in the fund for indirect investment in a mixed-use project.
Represented an IDA in the provision of financial assistance in the form of exemptions from real property taxes, sales and use tax and mortgage recording tax for a commercial project including mixed income apartments and commercial space.
Represented an LDC in the issuance of Tax-Exempt Revenue Refunding Bonds in the aggregate principal amount of $17,465,000 to finance a portion of the costs of refunding outstanding bonds for the benefit of a hospital.
Served as bond counsel on first ever Qualified Green Building and Sustainable Design Project in the country under IRC Section 142 relating to exempt facilities. This green building financing in 2007 involved the issuance of $228,000,000 of tax-exempt bonds for a regional shopping center located on a brownfield site.
Underwriter's counsel for Madison County Capital Resource Corporation
Affiliations And Acknowledgements
National Association of Bond Lawyers
New York Conference of Mayors
New York State Economic Development Council
National Economic Development Association
Community Involvement
Downtown Committee of Syracuse, Board of Directors
Gifford Foundation, Board of Directors (Board Secretary)
Volunteer Lawyers Project of Onondaga County, Board of Trustees (Past President)
Dewitt Community Library, Past President and Former Member, Board of Trustees
Presentations And Publications
Panelist, "NYSEDC Annual Meeting – Board Governance, Management and Transparency: Best Practices", September 2021
Panelist, "IDA Academy – Pending Litigation", April 2021
Panelist, "IDA Academy – 2020-2021 State Budget and Active IDA Legislation", June 2020
Panelist, "IDA Academy—Website Technology and Compliance", September 2019
Co-Author, "New Material Events for EMMA Filing By 501(c)(3) Organizations Effective February 27, 2019", February 2019.
Co-Author, "Authorities Budget Office Adopts Regulations Governing Industrial Development Agencies", January 2019
Co-Author, "New Regulation Streamlining TEFRA Process Effective April 1, 2019", January 2019
Presenter, "Best Practices in Diversity and Inclusion in the Legal Profession," Onondaga County Bar Association, June 2016
Presenter, "The SEC's Municipal Continuing Disclosure Compliance Initiative," Eastern Association of College and University Business Officers, September, 2014
Panelist, Syracuse University College of Law, Work-Life Balance, November 2011
Speaker, Central New York Women's Bar Association, Work-Life Balance, September 2010
Speaker, "Impact of Tenant Bankruptcies," National Association of Produce Market Managers, May 2, 2005
Education
St. John's University School of Law, J.D., 1991
State University of New York at Albany, B.A., 1988
Admissions
New York
District Court, Northern District of New York
District Court, Western District of New York
District Court, Southern District of New York
District Court, Eastern District of New York
Bankruptcy Court, Northern District of New York
Bankruptcy Court, Southern District of New York
Bankruptcy Court, Western District of New York
Bankruptcy Court, Eastern District of New York
Susan R. Katzoff